Hey everyone!
Before I started this blog, I read, "How To Write a Blog - A Dummy Proof Step by Step Guide!"
So with that being said, here goes my first blog!
So, with everything that has been going on in my life in the past week, I think it's necessary that I write this blog. For those of who you don't know, I recently signed with HMG Nashville! **YAY** That's a huge step in my career! I am very honored to be apart of their team and cannot wait to get started!
I feel like I'm writing an award speech, but I'm so serious about this. So many people are due for a thank you because without them, I wouldn't be here right now!
So first off,
Thank you Lord for the talents, gifts and the drive to sing, write and entertain. Without you, I wouldn't be able to inspire people through my music. That's all I want to do...inspire and set a good example and hopefully change lives for the better! Because lets face it...it's a tough world out there and we all need inspiration. Lord, I want to continue to do Your will so please guide me and open my ears and heart for what You want for me! I love You and I will continue my journey for YOU!
To my husband, William, thank you for falling in love with me! We first met at a local singing competition. The place was so crowded that a man, Sunny, asked if he could sit with my mom and I. He introduced us to William, and my mom and I thought he was such a cutie in his boots and cowboy hat! So the competition started and I beat him! WOOHOO! (Sorry babe!) At the finals, there was assigned seating and his seat happened to be behind mine, but he was sitting next to a beautiful blonde, who he says he doesn't even remember!) We started talking that night and he called me a few days later, go on our first date and we both fell in love! From then on, we perform and write together! I am so proud of all that we've accomplished. Without you babe, I wouldn't be here. Once we got married, we joined our bands together and became, Kari Holmes and The Modern Day Drifters. You taught me so much from performing to behind the scenes. I love that we get to perform on stage together! It's a dream come true! You always surprise me with your songwriting. It's so beautiful and deep...when I think I've heard everything, you play me a song you wrote and I can't help but drop my jaw.
Mom and dad, you already know what I'm about to say! THANK YOU for letting me quit violin!!!! Phew, glad I got that out of the way! But seriously guys, without you supporting me my whole life, I wouldn't be here. I could not ask for better parents! Okay, that sounded weird cause you're my best friends. Thank you for believing in my gifts and pushing me to do my best. I'm so glad you bought me LeAnn Rimes' CD when I was four! Mom, it always bugged me when you would tell me to keep trying something I couldn't do. "No mom, I can't reach that note, forget it!" "Oh my gosh Kari, just keep doing it." Months later, "Hey mom, I can reach that note now! HA" That will always make me laugh. I know I drove you crazy by saying how I couldn't do something. Thank you for pushing me. We've had some crazy fun times together and you have always, ALWAYS been there for me no matter the situation. I love you so much! Dad, thank you for helping me get started learning how to play guitar! Without your guitar around the house, chord books and you showing me tricks, it would have taken me that much longer to pick one up and actually go get lessons somewhere. I love you! You guys always took me everywhere, whether it was a competition, an open mic night, small gigs, big gigs, auditions, driving to Nashville, a school event, etc. You were always willing to help me. Taking pictures, videos, etc...Thank you! You have always had my back and I appreciate it so much! Same with my grandparents. Grandma, thank you for the fashion tips and shopping days we have! I love that we get to go on trips together too when I have a performance. Hanging out with you, grandpa, William, mom and dad makes the trip so memorable! It's so much fun!  You guys are so supportive of me, always there for me backing me, helping me, guiding me. You all do so much for me and I'm forever grateful!! I love you all so much and I hope I give back what you've given me...love! Kay and Ernie, thank you so much for believing in me too and always lending a hand and always being there for me!!!! Kay, you are always willing to go out of your way to help me and you have no idea what that means to me! Ernie, I know you're in Heaven looking down on William and I! I hope we're making you proud, we love you and miss you! P.S thank you guys for such an amazing husband! :)
So, I got a call from Robin Cursi saying that he woke up one day, had some coffee and a thought occurred to him..."I need to get Kari introduced to HMG. (Is that the holy spirit or what!?") So Robin and Patty Cursi, thank you so much for listening to that thought and actually following through with it! Especially since at that time, we haven't met yet.  It means so much that you believed in me that much to introduce me to HMG and giving my songs a chance!
Kerry Adams!!!I still need to make us shirts that say, "Thing 1 and Thing 2!" What to say about this guy! I'm just so grateful you're on my team! Ever since we met,I knew you were special!!! You were so nice to me, probably thinking, "Awe this little girl wants to open for us, I'll be nice and give her my card!" Haha! Kerry, you're not only my old guitar player (by old I mean not current hehe) producer and friend, you and Deb are my family! For the past 3 years, I have had a blast recording in your studio and performing with you on stage I remember it was Halloween and I came over dressed up as superwoman! The great thing about you is you tell me the truth. I love that I can trust you and come to you with ideas and you can look me straight in the face and say that's stupid, I would do this....! LOL! You're real and not afraid to tell me what you think! I need that and  love that about you! I'm always learning from you #HashtagsAreCool I look up to you, I love you, and I can't wait to start this journey with you! Thank you for believing in me!
Darlene Fowler from HMG....WOW! It was so amazing to finally meet you! Thank you so much for taking the time to sit down with me! I know this week was one of your busiest weeks of the year with the ICM Awards and all. BTW, congratulations with all of your success! I heard your name quite a few times in artist's thank you speeches! Thank you so much for treating me like family, giving me great advice and believing in me so much to sign me! I am so excited to be working with you and everyone at HMG! I will work hard and I am ready for anything!! :)
The Modern Day Drifters (Bert Danger, Pete Johnson and Paul Girard,) thank you for being an awesome band! I love performing with you guys, but I could take less of the jokes in the car...hehe) JK! I love that we're like family. Thank you for caring enough to push me to be a better musician. Thank you for your suggestions, emails, videos, etc. I know I can always count on you three! I know traveling takes a lot of commitment and I appreciate your willingness. Hey guys, we're driving 8 hours there and back to open for so and so...you in?" "AWESOME, let's do it!"
To the people who my songs are about...the stories behind the songs, etc.... thank you! You too have helped me inspire people!
Friends, family and friends...to everyone who has bought my EP, came out to my performances, "LIKED" my Facebook page, bought merchandise, etc. Thank You! You are the reason I get to do what I love! I hope I continue making music that inspires and speaks to you!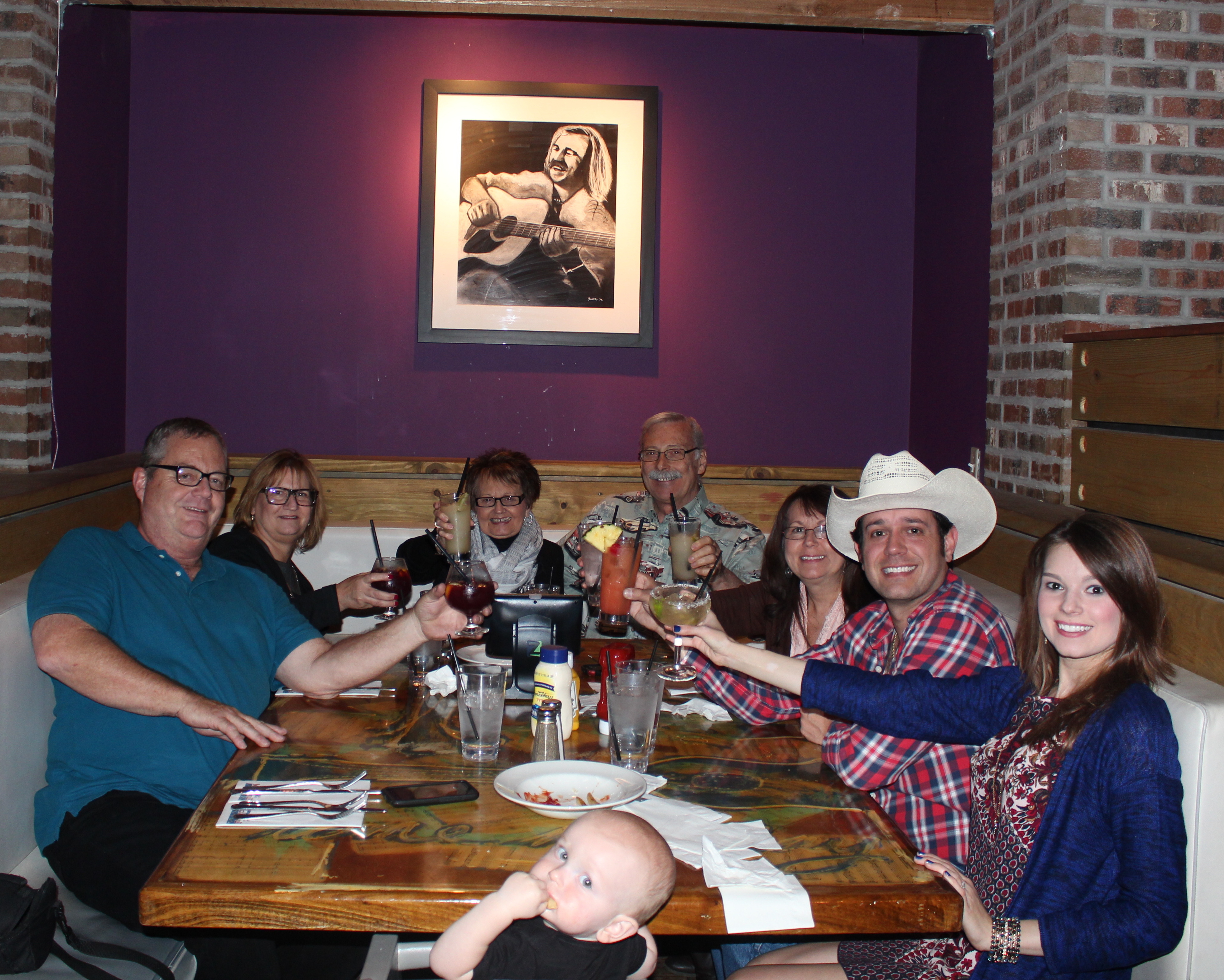 (Kerry and Deb Adams, grandma, grandpa, mom, William, myself and baby celebrating at Jimmy Buffet's Margaritaville in downtown Nashville!)