Reviews for Upcoming Album, "When I See You Smile"
"This is one of the most exciting generations of singer/songwriters to come into focus in a long time, and Holmes proves to have quite the role to play among the best in the game here." When I See You Smile," was IndieShark's pick of the week and is nominated for Album of the Year. - IndieShark
"In every track where you hear a harmony between Holmes and the guitar (Brent Mason) in her new album When I See You Smile, the chills factor is absolutely off the charts, and it's got nothing to do with the sublime production style through which the material is presented." - Hollywood Digest
"She's not urgent with her poeticisms, but instead very disciplined with how she's constructing a theme in When I See You Smile, which makes for a more complete listening session when going over the record track by track. This is a very thoughtful singer/songwriter, and there's no stepping away from the better part of this album without acknowledging as much – between production quality and natural poise, hers is a presence you can't help but fall in love with." - Indie Pulse Music
" Where others are struggling to embrace the fine-tuned elements that are comprising a new wave of progressive country jams, this is a player prepared to take her place in the center of the spotlight." - Independent Music and Arts Inc.
"... this is one of the more forward-thinking works I've listened to from a country artist of any age. There's no pressing stop on the tracklist once you get started, and that's not been the case with the majority of records I've heard this winter." - Melody Maker Magazine
"She's gunning for gold in songs like these and the titular track in When I See You Smile, and unlike the limited frame her mundane mainstream counterparts are working through, hers is a style of country music singing that blends the best of the old school with the new. - Collin Jordan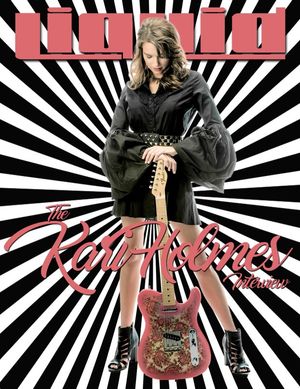 For those who've seen the video for "Something New" by singer/songwriter Kari Holmes, you're aware she's quite the charismatic performer. Holmes puts on one heck of a live show too. Considered by many as the future of country music, the poetic vocalist and her band The Modern Day Drifters are currently on a multi-city tour.